The summer of 2011 has been the most productive season by far for me and I couldn't have asked for anything more! I love keeping busy and this was exactly what I needed. I got handed this project by fashion blogger Sarita Chamling in the start of summer and I spent most summer searching for fabrics, sketching up, sewing up! I loved it!
I often find myself explaining to people that I do not in fact consider myself a fashion designer. And that is because I am not a fashion designer, simple! I am doing a degree for fashion promotion and imaging which involves a lot of commercial magazine editorial work. But I have studied fashion textiles before in college so I know the process and the ins and outs of making a piece of garment. I am just not fully skilled at it. Combining my knowledge of textiles, alongside my love for styling and photography, I was able to design and create all these garments. Six of them in total.
The rehearsals with the organizers, the models, the rest of the designers was just so much fun! We got together in London a fair few times to meet up, do fittings and practice our run. Us designers were all allowed to choose models from a selection and I really wasn't dissapointed with what I was given. All the girls were amateur models and most of them had never done a runway show. So we worked on building their confidence more than anything. Most of the girls had the natural 'coll-ness' and 'swag' which helped them carry out our garments very well. And as long as our garments look good on the runway, us designers, we're happy bunnies!
The Signature Crew dais were the other half of the organizers who handled the financial, organizing side of things. They normally host Nepali dance party and although I personally have never been to any of their gigs, I was excited to see how the crew handled different situations. But I wasn't dissapointed at all! They made best efforts at making sure we got lots of time in for rehearsals and were very caring towards all of the crew members, making sure everyone was alright, no complaints. One thing they get a thumbs up from me is for their choice of location! The Coronet Theatre in Elephant and Castle. It was spacious with a variety of lighting, good stage space, backstage rooms and all.
The night before the actual show, I won't lie, I did indeed stay up late all night to make last minute alterations to the dresses! A crazy as that sounds, I was then up for the rest of the day, travelling up to London for last minute rehearsals and then the show! And then the after party! It was crazy but so much fun! The night ended at 6 am the next morning but I was left with memories to last me a life time!
My six final garments. THE SHOW 2011.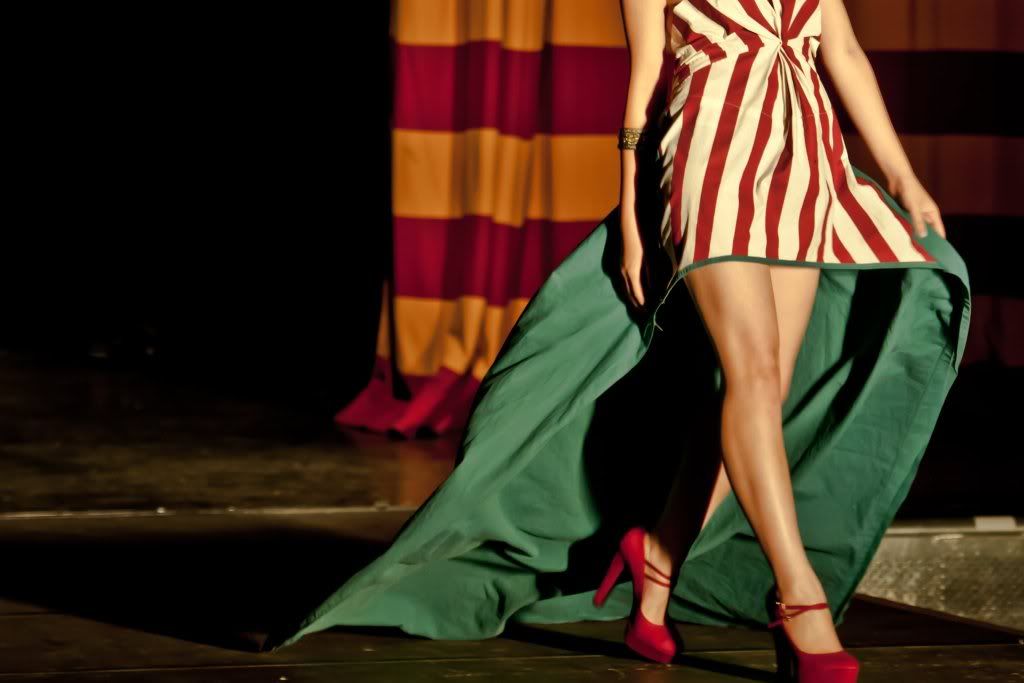 This photo on the top has got to be my favorite photo. It was shot by Mani Rai as my final model strutted down with the show stopper dress. My models were all so easy to work with and they did exactly what I wanted them to do! I love them for that! What people don't realize is that it takes so much courage to walk down that runway, in front of everyone! Even I was panicking when I walked out for my bow.. and I was holding my models hand! I had this massive grin on my face because I had been dancing to my track Shut up and Let me go - The Ting Tings backstage, behind the curtains! I was excited/ nervous/ anxious/ scared/ happy all at the same time! It was crazy! I loved the response my collection got from the audience. Without them, I would have never known how well I did. I'm really glad everyone enjoyed my collection.
The official video of the night!
Throughout the whole process, I got to meet so many new people, I feel really blessed to have made so many new friends. I'm so grateful for being given this amazing opportunity to showcase my work. Lots of love to Sarita didi for the entire experience and Signature Crew (Bisesh dai, my favourite, in particular) for all the free food during rehearsals!
So when it comes down to the dresses.. they have a whole new different meaning to them. They look awfully colorful and a little bit 'in your face', I will admit it, but I love how Rasmi has interpreted it. Going through reviews made about THE SHOW 2011, I think Rasmi Dewan, who was on of the AMAZING designers from the night writes up AMAZING words. She could have absolutely critised the living death out of my clothes and I would still have loved it! Rasmi Dewan has a way with her words, beautifully crafted just like the garments she designed for the night.
Still when I'm a mess, I still put on a vest With an S on my chest



For anyone like me who is very fond of bright colours and a bit of playfulness in clothes, this next collection by Chhimmi Gurung was the right type of dose your colour block addiction. There were blurs of colours and trails. The air was filled with the confidence radiating from the models, who very much resembled Super heroines for me. Maybe it was the cape, maybe it was the trails and maybe it was bright clashing colours. But i can definitely say that there was no stopping these ladies on the runway. They glowed in the light and soaked in the energy emitting from the audience who loved every bit of what they were seeing. They looked like they were ready to save the world.

The models or i would like to say the Super heroines loved every bit of what they wore. You can tell when someone loves what they are wearing. Their attitude and the way they carry themselves and these models weren't a least bit shy. They floated down the runway with trails of colours behind them, posing with full confidence. They weren't afraid to spin or give a peek at their bare back. The lengths varied from mini till floor lengths. The look on the models was soft yet the attitude and the walk was strong. Also the some of the silhouettes made them look quite athletic. The triangular details around the waist and the gold accessory gives a very tribal look.The inspiration behind the collection was all about feminism and there was an atmosphere of girl power in the show. She might have not intended on making them look like Superheroes but for me they definitely looked like some. The bright clashing colours, the flirtatious attitude and strong character. The way they posed and that nothing fazed them and how we were hooked on them gave them a superior persona. I loved the little smirks and that fierce look in their eyes also the colours add a childlike characteristics maybe because it was the type of the colours we attracted to when we were kids. Bright colours were a win for me growing up :). There was a strong feminist attitude but with a softer edge. I would imagine their character to be intelligent but a little naive maybe a bit stubborn at times but they are strong women with a strong determination and beliefs. Though emotional they don't want to let people see them vulnerable. Even the weight of responsibility is heavy they will keep going on.I am sorry if everything i wrote didn't make sense to you. But i really like to think about the character. That is what i love the most about design and is that you can play with characters. when model wears a piece of clothing. She also wears everything that collection stands for, what the stands designer stands for and the inspiration and the thoughts that were put into such clothes. You are not only watching clothes walking down the runway you are also watching a piece of story being told that designer wants you to understand. How you translate it is up to you. I am saying this now because I know the designer had sought inspiration from something that she strongly believes in and a subject that turned into something very personal for her, so hopefully you will all like it. And to know where she got her inspiration from. Visit her blog called

My Inc

. It is filled with what inspires her at the moment and her latest projects that helped her come up with this collection.