The posters had been plastered all around UCA, the designers were buzzing to finish off their garments and well, the promotion team were just waiting anxiously for freakin' THREE PM FRIDAY 18TH FEBRUARY TO COME!
This poster was created by myself and Olivia, featuring my fashion illustration and Olivia's typography.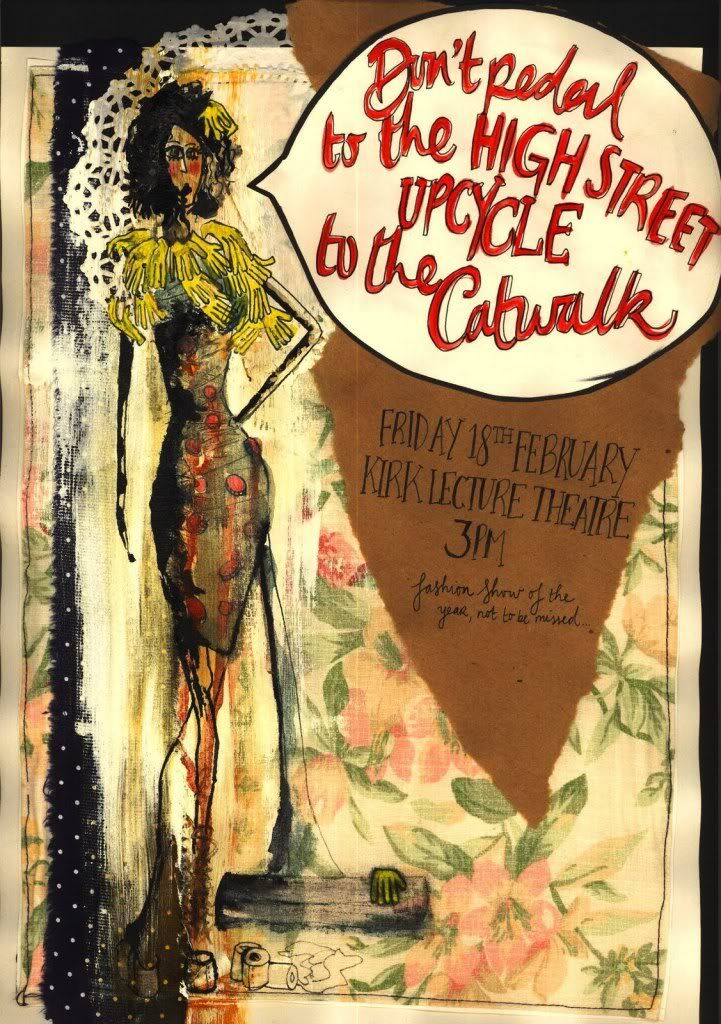 I really wanted to try out some Fashion Illustration Animations, so I got help from one of the lads from Lens Based Media who is EVER SO TALENTED at animation! All I had to do was draw up some simple movements of the body (which I cleverly traced out of photos I had taken before hand ofcourse *cheeky grin*) and Zack the amazing animator turned it into this clip just overnight!
Here are some of the photos I edited that my friend
Anju
took during the show. The outfits were SOOOO amazing, considering the fact that they were all made from second hand materials! Actually, scrap what I just said.. they just looked truly awesome, just because the designers are so talented!
I was slightly jealous, I must say!
And lets not even talk about the models.. I think the designers did a good job on picking out the right models for themselves.
Even my family came along to support the show!
All in all, I am soooooo happyyyyyyy! and I kinda wish to spend more time working hard like how I did for this show. It gets me all excited and HHAAPPYY!
ps, This post is dedicated to Diya Gurung, my dear friend Anju Gurung's sister. I really hope that I have made you proud by making sure I wrote all my "I" correctly, in capitals. Thankyou. God bless.