The first thing on my list for my

spring-must-haves

was
coloured hair spray! Dip-dye has been a massive hit
lately but all over the runways, designers have been going crazy
with all sorts of colours to compliment their garments this
season. I have dark hair, which hasn't been dyed for months now
and I hope to keep it that way but I just cannot turn my face
away from all these colours!
Temporary colour spray it is!
My favourite. Subtle shades of colours to frame the face that
compliments the fresh face. I'm also in love
with the bouffant at the moment- oh so 60s with the middle
Moving onto a slightly less wearable look, Issey Miyake has his
models spray their hair which has been
shaped to look like tulips! How cute! Looking at it artistically,
I actually really like this! However odd it
Thakoon s/s 2012
Now onto a look that should be left for the runways... Thakoon's
mini soldiers came out with painted, tied up dos. Although I will
not be sporting this look this spring, the choice of pastel
shades' definately rocking my boat!
Lee Stafford's
Colour Extreme Colour Extreme Spray
in Outrageous Orange
So I found this little 75ml can in Pounland! Yes, it was indeed only
a pound but Boots sell it for £4.07. I'm slightly confused with
all the different packagings but nevertheless, the product I
purchased
(pictured above) didn't dissapoint. It has a good
pigmentation and although it
covered my dark hair, it took me a
fair amount of spray to
cover my hair. But because I only paid a
pound for it- I'm not
complaining! It does say on the instructions that it's advisable to
spray a white colour on first though... booo.
As you can see, the bad thing about spray on colours is that it
will
leave a dry texture! I don't mind it since I only spray a
strip of
hair where I have my quiff on and everything is rock
solid
hair
sprayed into place. I wouldn't advice you use this
product to
spray the
tips of your hair for the dip-dye effect
unless you're
using it
or a photoshoot.. with far away shots!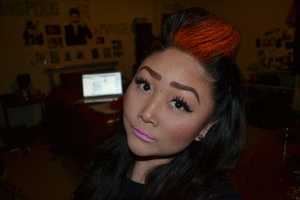 The reason why I had to go with orange (out of all the colours out there) was because this was the only
colour they had in stock yesterday!

Overall, it's a great product if you want to dye your hair but you have dark
hair or you just want a temporary colour.

I went out with this look last night and had bronzed face, thick
eyebrows and a contrasting lip colour- Barry M lip paint #100 on.

The colour stayed on all night and was easy to wash off with a bit
of shampoo and warm water.